EatToHeal Gets R.A.W.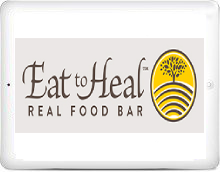 EatToHeal
EatToHeal wants to make nutritious and delicious food easily available in one bar using only the best natural nutrients, ones your body can absorb and utilize.
They exclusively utilize raw bar-making processes, always using limited ingredients, and never use any heat treatments during production. All of their bars are made by hand in small batches and are always made upon order. Products are never kept on shelves, providing the customer with the freshest bars. The brown rice protein in their products uses non-GMO sprouted rice and has an amino acid profile closest to mother's milk. Their products are also kosher and certified organic.



Certified Products
Blueberry
Coconut
Chocolate Chip
Chocolate Peppermint
Lemon
Peanut Butter
Chocolate Coconut
Apple Pie
Cherry Pie
Chocolate Peanut Butter
About
Jaime F. Nappi is a Certified Nutritional Therapy Practitioner. Her passion for healing foods has been with her since the age of twelve. Years later after being diagnosed with an autoimmune disease, losing her beloved mother to cancer, and learning of her father's cancer diagnosis, she was determined to help her own body heal by changing her diet and incorporating a holistic approach to healing.
Through her journey, she has made a promise to herself to help others prevent and manage their diseases. When she saw the "health" bars that patients are routinely given, she got so angry that she went to her kitchen and created her own. She also educates people on a holistic and healthy lifestyle.